1031 Exchange Brochure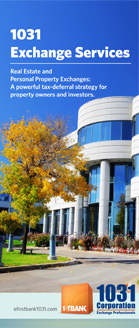 May we send a supply of our Real Estate Exchange brochures?
Our informative booklet briefly explains how your clients can defer tax on the sale of business or investment real estate. By providing these educational pamphlets to your clients, your role as a trusted advisor is reinforced. This can lead to increased loyalty and the opportunity for increased sales.
If you would like a quantity, please give us a call or contact us via email and we will have a supply sent to you right away.